Our Providers » Madhavi Menon, MD, FAAD
Our Providers » Madhavi Menon, MD, FAAD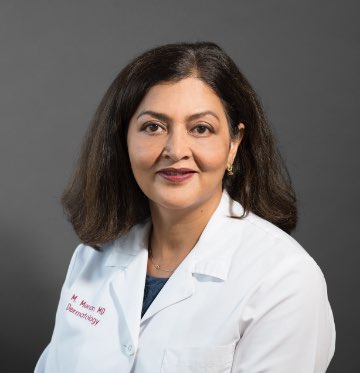 Madhavi Menon, MD, FAAD
Dr. Madhavi (Micki) Menon, MD, FAAD is a board-certified dermatologist focusing on medical and surgical dermatology.
She completed her undergraduate studies at the State University of New York at Albany, graduating with highest honors in Biology and Chemistry. She completed her medical training at Meharry Medical College, where she won numerous academic awards for excellence in various subjects and was inducted into the renowned national medical honor society, Alpha Omega Alpha. She subsequently completed an internship in Internal Medicine, followed by a residency in Dermatology, at the University of Tennessee in Memphis, where she was elected to be Chief Resident.
Upon returning home to Central New York, she co-founded Dermatology Consultants where she has worked tirelessly and diligently over the last 22 years to build a practice with an unparalleled reputation for patient care.  Dr. Menon is an active member of the American Academy of Dermatology.
Contact Us
We are available Monday through Thursday from
8am-5pm. Fill out the form below or contact us at
(315) 701-0070 to contact our office staff.
We are happy to assist you!
If you are a current patient with a medical concern or needing to change or cancel an appointment, please call the office and do not use this form.